When 69-year-old Seattle resident Mary Goldsmith* used her neti pot—a device shaped like a tiny teapot—to rinse her sinuses, she had no idea that it would be her death sentence.
In January 2018, Goldsmith suffered a seizure and was admitted to the ER at Swedish Medical Center.
A CT scan revealed a golf ball-sized mass. The doctors assumed it was a brain tumor... but when they opened up the patient, they discovered something much more gruesome.
"When I operated on this lady, a section of her brain ... was bloody mush," Dr. Charles Cobbs, neurosurgeon at Swedish, told the Seattle Times. "There were these amoebas all over the place just eating brain cells."
It turned out that Goldsmith, who died a month later, had contracted a rare infection called granulomatous amoebic encephalitis (GAE) that had literally been consuming her for over a year. The culprit was the unsterilized tap water she used to rinse her sinuses with.
Disease-causing amoebas come in many varieties. Mary Goldsmith died from Balamuthia mandrillaris. It's a rather slow-acting and rare amoeba that kills 90% of its victims.
One of the better-known and faster-acting amoebas is Naegleria fowleri. It caused a New Jersey man's death last October after he surfed in an indoor water park in Texas.
But all of these killers have one thing in common: They typically don't live in the Northern Hemisphere.
They're normally found in South and Central America, but due to warmer temperatures, they've been rapidly spreading northward.
"I think we are going to see a lot more infections ... move north," said Swedish infectious-disease researcher and co-author of Goldsmith's case study, Dr. Cynthia Maree.
And it's not just amoebas...
Take the West Nile virus, for example. Transmitted by mosquitoes, it originated in Uganda and is now found throughout the US, Canada, and Europe.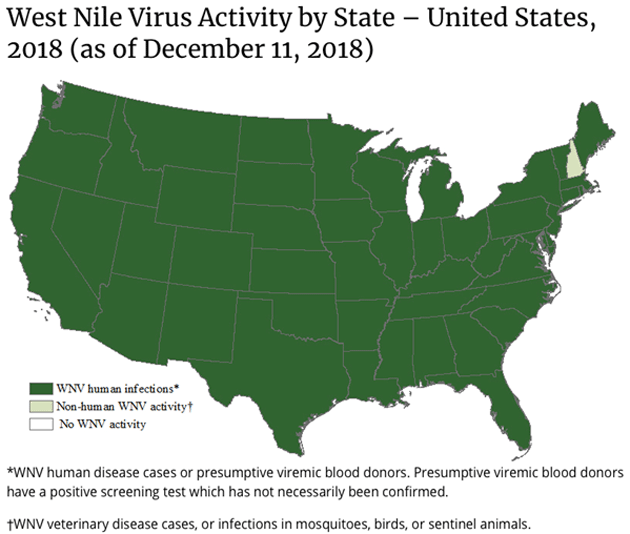 Source: cdc.gov
And the number of neglected tropical diseases (NTDs) that are found in North America keeps rising.
According to Peter Hotez, co-founder and dean of the National School of Tropical Medicine at Baylor, about 12 million Americans are affected by diseases that we've previously only seen in third-world countries.
A few years ago, Hotez and a team of researchers took soil, water, blood, and feces samples from an impoverished county in the southeastern US.
They found evidence of tropical parasites that are common in sub-Saharan Africa, Southeast Asia, and Latin America.
So the investment opportunity here is pretty obvious: Find companies that offer treatments for those proliferating tropical diseases.
Below is some inspiration for you.
However, I'll have to add a disclaimer here.
I recently got some reader emails asking me for specific buy-in and sell prices for my "A Rich Life picks."
Please note that the companies I mention in A Rich Life are just meant to give you some ideas for your own research... not official investment recommendations. There's no A Rich Life portfolio, and I don't keep track of these companies.
If you want actual stock picks—thoroughly researched and vetted, with entry and target prices, full company analysis, the whole nine yards—I encourage you to take advantage of our special offer for my investment newsletter, Healthy Returns.
Today is the last day where you can get Healthy Returns at the discounted price of $6.95 per month. Add to that our amazing bonus package, which includes (for US residents) a hardcover copy of Dr. Mike Roizen's brand-new book, What to Eat When. You have until midnight tonight to sign up.
So here's an interesting small company that's fighting against these tropical diseases. (Again, please do your own due diligence).
BioCryst Pharmaceuticals (BCRX) is a $900 million market cap company that's developing a drug called Galidesivir.
Because of the way it works, doctors could use the drug as a broad-spectrum treatment for a number of nasty tropical diseases… like Ebola and other deadly hemorrhagic fevers, including Marburg.
It could also treat things like Zika, which can cause serious birth defects and is associated with other pregnancy problems.
In other words, Galidesivir could be one solution for many problems.
That makes BioCryst an interesting potential investment opportunity.
I should add that the drug is in the early stages of development. That means it might not hit the market for years—or possibly ever, if things don't go well in phase 2 and 3 clinical trials.
But the company has a variety of drugs in development to treat other conditions. And it has a drug called Rapivab that's currently on the market to treat the flu, so it might be worth a look.
_______________
*Not her real name
Best,

Chris Wood
Editor, A Rich Life